Juan Diego House
is now
Queen of Angels center for priestly formation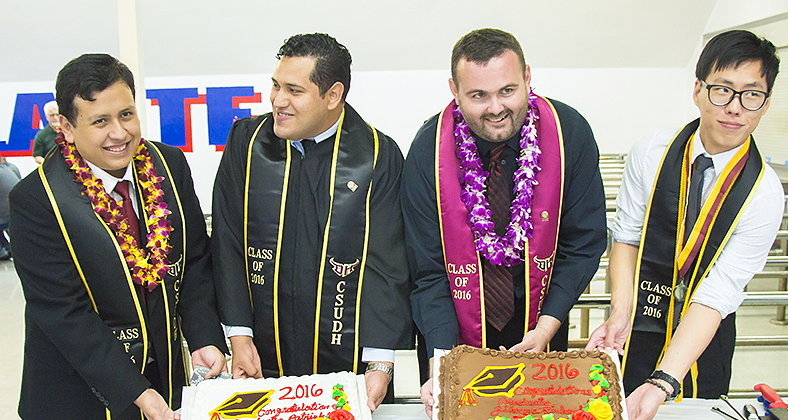 Introducing
Queen of Angels Center for
Priestly Formation
The Queen of Angels Center for Priestly Formation serves college-age seminarians who are discerning a vocation to the priesthood. A program of the Archdiocese of Los Angeles serving seminarians all throughout California, we strive to be a source of encouragement and education as these young men live out the convictions and challenges of pursuing their new calling.
We began in 2003 as Juan Diego House and have adopted our new name in the summer of 2017 in tribute to Our Lady as well as in anticipation for our new location to be opened in the Fall of 2018. Queen of Angels Center will continue to honor our founding patron saint by dedicating our chapel in his honor.
Queen of Angels Center is built on the four pillars of formation, providing an academic, spiritual, catechetical and liturgical environment for seminarians with a multicultural emphasis. We offer the men we serve an opportunity for personal human growth, authentic Christian service to others, and a deepening appreciation of the spiritual and liturgical life of the Church.
A New Home:
The Pathway to Priesthood Campaign
We've been blessed to have more men than ever answer God's call for them to consider the priesthood. To respond to this blessing, we are developing a new site for the Queen of Angels Center to bring together our seminarians into close community and build for the future as more young men answer a call to the priesthood.
We have launched a Pathway to Priesthood campaign to raise funds complete the building project and offer a variety of sponsorship opportunities and "pathway to priesthood" tiles, which may honor of a family member, special occasion or favorite priest.
For more information, please visit:
PathwayToPriesthood.org
email: [email protected]
or call us at: 213-637-7523.
Class of 2018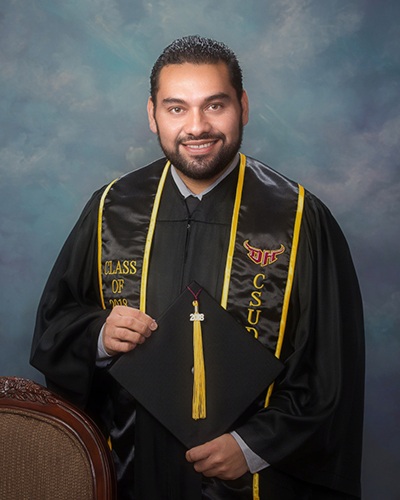 Adrian Arreola
Our Lady of Guadalupe, Delano CA.
BA in Philosophy, Minor in Management
First I want to thank God, the Diocese of Fresno and Bishop Armando X. Ochoa for giving me the opportunity to discern a calling to the priesthood. The Archdiocese of Los Angeles for taking me in during these four years of my formation. The formators for all the support they have given to me during my time at Juan Diego House now Queen of Angels. Finally, I thank each and every one who has been part of my journey; my family and friends, pastor, home parish community and my adoptive parish in Boyle Heights Resurrection, and those that I have encountered during my years of formation. May God bless all of you for your generosity and continued prayers. "I have told you this so that you might have peace in me. In the world you will have trouble, but take courage, I have conquered the world." John 16:33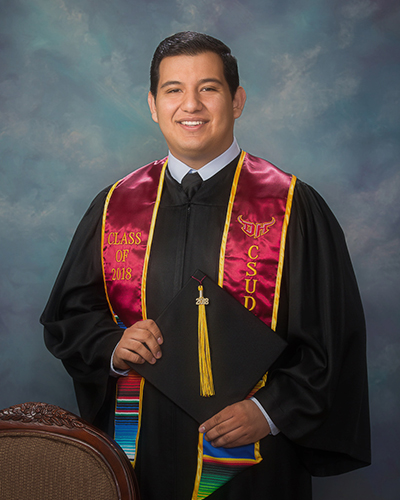 Braxton Cordova
Cathedral of Our Lady of the Angels, Los Angeles
BA in Philosophy, Minor in Management
I want to thank God for it is by His grace and strength that I have been able to make it this far. I would also like to thank Archbishop Jose H. Gomez and the Archdiocese of Los Angeles for their prayers and support that they have given seminarians. I would also like to thank Queen of Angels Center and the formators for the support and their patience throughout my three years of formation. I would like to thank my family, friends, and the people of my parish, and everyone who has been part of my journey here, for their unconditional support and prayers. May God continue to bless you all. 'But in the end, it is only a passing thing, this shadow; even darkness must pass.' – Samwise Gamgee 'It is not the strength of the body, but the strength of the spirit.' – J.R.R. Tolkien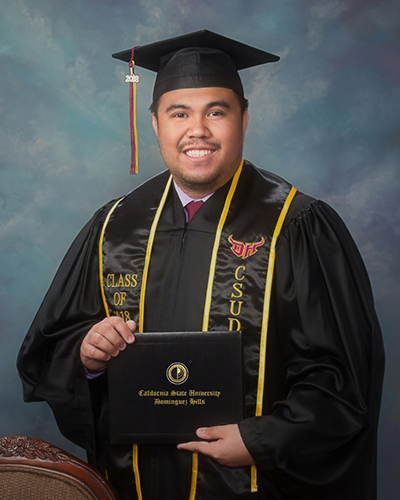 John Coronel
St. Peter Claver, Simi Valley
BA in Philosophy, Minor in Psychology
First of all, I would like to thank God for this calling in my life. I would also like to take this opportunity to thank the whole Archdiocese and Archbishop Gomez for all their prayers and support. Furthermore, I would like to thank my Formation and Spiritual Directors for sharing their wisdom and knowledge with me, but also sharing their time and patience into forming me into the man of God I strive to be. Last but not least, thank you to my family, especially my St. Peter Claver family, and those who have supported and prayed for me in my journey towards the priesthood. I look forward in the future to serving the people of God and moving forward in this next chapter in my formation. "Have I not commanded you? Be strong and courageous. Do not be afraid; do not be discouraged, for the LORD your God will be with you wherever you go." Jsh. 1:9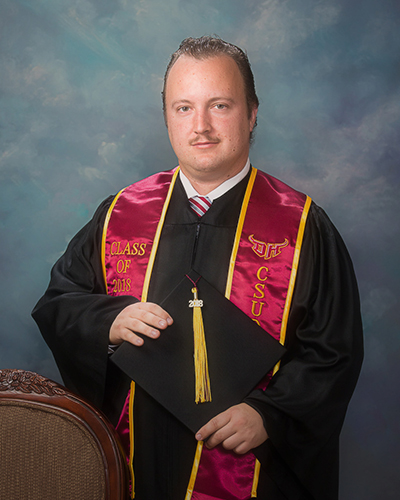 Charles Coulombe
St. Didacus Catholic Church, Sylmar
BA in Philosophy, Minor in Music
First, I would like to thank God for his great abundant graces and blessings He has given me to be here to serve the people of Los Angeles. I would also like to thank his excellency, Archbishop Jose Gomez for all his support and everything he has done to help me here at Queen of Angeles Center. Finally, I would like to thank all the people who have prayed, and continue to pray for me, of which without, I would not be the person God has allowed me to become. Through the intercession of Our Lady and the Saints, I ask that you all continue to pray for me as we continue to journey down the road of life. Viva Christo Rey y Viva La Virgen de Guadalupe! "Listen and let it penetrate your heart. Do not be troubled or weighed down with grief. Do not fear any illness or vexation, anxiety or pain. Am I not here who am your Mother? Are you not under my shadow and protection? Am I not your fountain of life? Are you not in the folds of my mantle? In the crossing of my arms? Is there anything else you need?" (Our Lady's words to her servant Juan Diego.) "Siempre adelante nunca atras!" (St. Junípero Serra)
Armando Hernandez
St. John of God, Norwalk and St. Peter Chanel, Hawaiian Gardens
BA in Philosophy, Minor in Management
I would like to thank the Lord for allowing me to hear his voice and for allowing me to discern the priesthood in Queen of Angels Center. The formation program has challenged me and allowed me to grow as a person and I will always be grateful for that. I want to thank Archbishop Jose Gomez, my formators, and the people of the Archdiocese of Los Angeles for walking with me throughout this path. Thank you to both of my parishes, St. John of God and St. Peter Chanel. Your prayers have allowed me to make it this far in my formation process. I would also like to give a special thank you to my family for being very supportive and giving me the base of my faith. "Turn to Mary most holy, your heavenly, Mother; pray to her with fervor, invoke her daily, in order to be authentic imitators of Christ in our day" -Saint John Paul II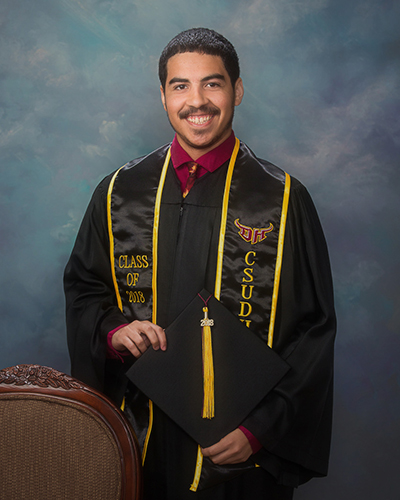 Emmanuel Sanchez
St. Mary, Palmdale
BA in Philosophy, Minor in Spanish
First and foremost, I would like to thank the Lord Jesus Christ for guiding me through my journey of discernment these past four years. I would also like to extend my gratitude to the Archdiocese of Los Angeles Vocations Office, including Archbishop Gomez and his wonderful staff. Furthermore, I would also like to thank my family, especially my parish family at St. Mary led by my pastor Fr. Vaughn Winters, who continue supporting my vocation. Next, I thank the Formation Directors at the Juan Diego House/Queen of Angels Center for Priestly Formation for educating me and shaping the way I am today. I would also like to thank the benefactors that constantly work to financially and spiritually support us seminarians, most notably the members of the Serra Club, the Knights of Columbus, and the Catholic Association of Latino Leaders. Lastly, but certainly not least, I would like to thank my Spiritual Directors for blessing me with wisdom that will help me as I continue on the path to priesthood. As I move on to St. John Seminary, I hope to make everyone who has supported me proud as I inch closer and closer to my future ordination date. I will continue to keep praying for you all, so please pray for me as well! "Mercy is what moves us toward God, while justice makes us tremble in his sight." -Pope Benedict XVI
Juan Diego House
1103 W, 164th Street, Gardena, CA 90247
310.516.6671